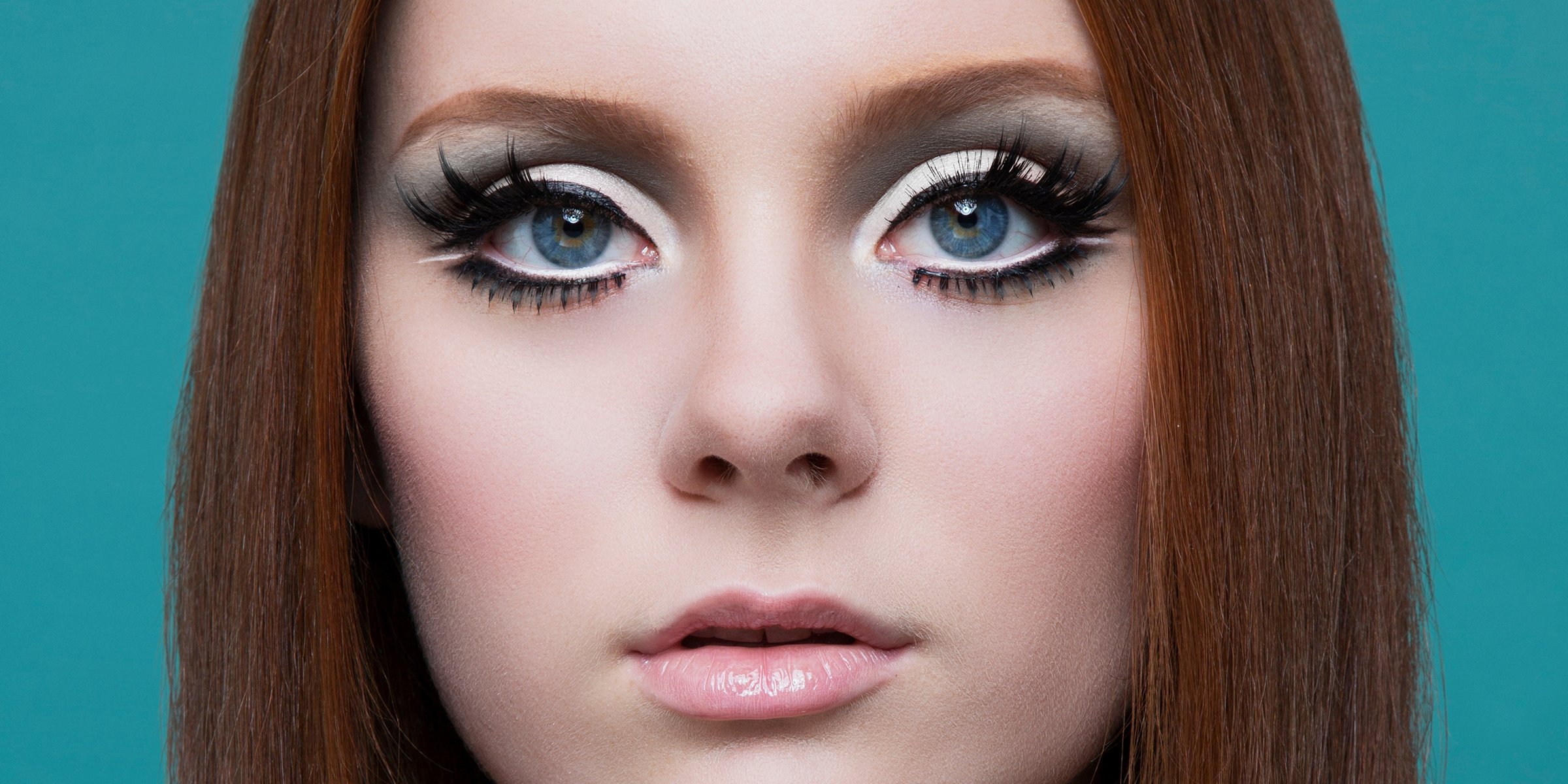 A woman with white makeup. | Source: Getty Images
Black and White Eyeshadow Looks to Try at Your Next Makeup Session

Black and white eyeshadow looks are easily played around due to their versatility in fashion. Besides the classic smokey eye, black and white eyeshadow shades can be used in several other ways.
Black and white eyeshadow styles are versatile and can be worn with different outfits and at various events, from casual days out to glamorous red-carpet evenings.
However, achieving the perfect eyeshadow in black and white shades can be difficult. Although the smokey eye is the most famous for black styles, many more techniques exist. The same goes for white colors.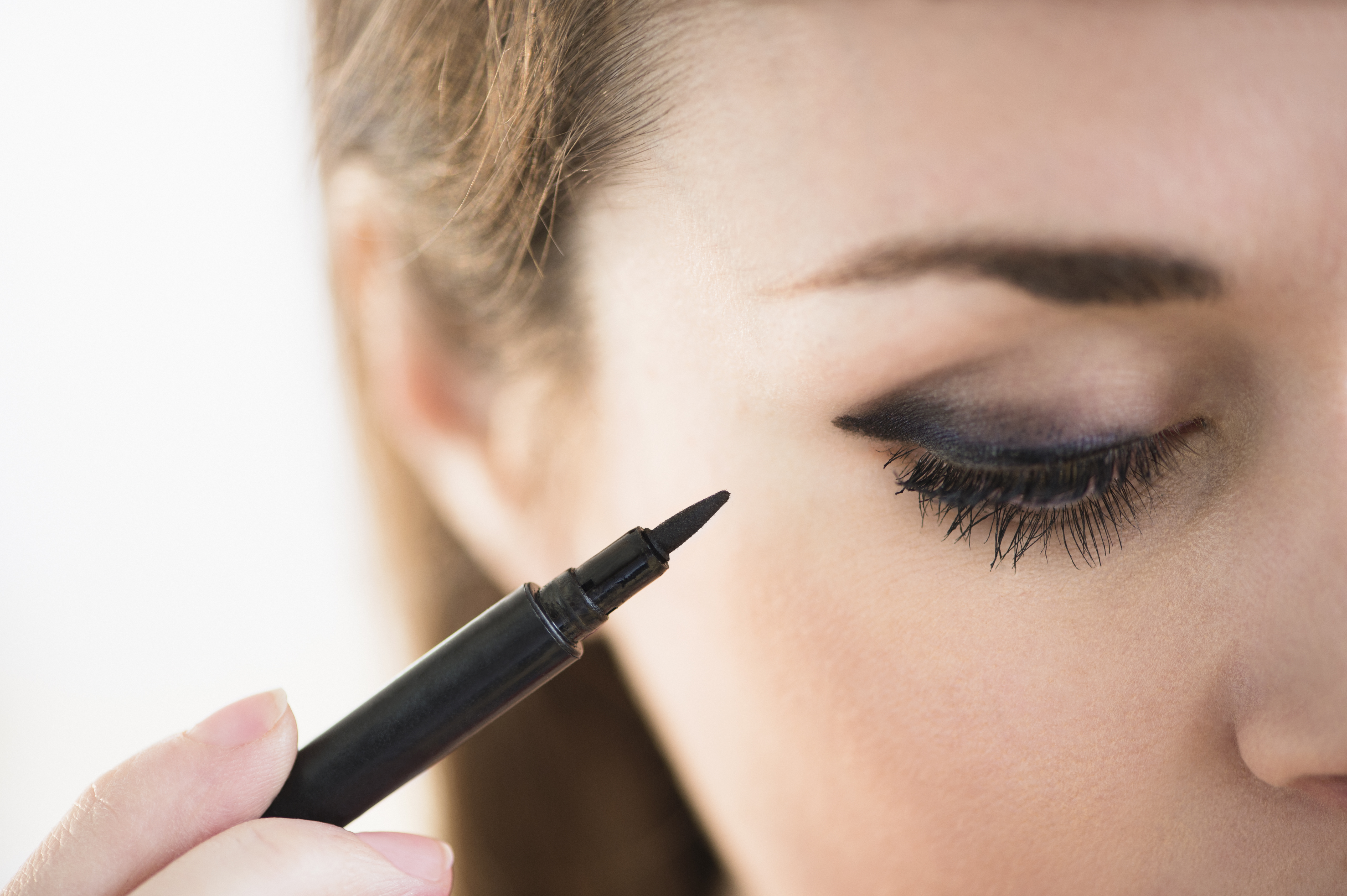 A woman applying black makeup. | Source: Getty Images
Black Eyeshadow Ideas to Try For Your Next Makeup Session
Every makeup enthusiast would know the smokey eye, a classic black-based eyeshadow that adds depth to the eyes. However, Myiesha Sewell, Sephora's beauty director, has a different take on the famous look. Sewell instructed makeup users to use a cream shadow to achieve the "colorful smokey eye."
The cream shadow is applied on the eyelid with a brush before blending the color to the crease with a fluffier brush. Any color can be paired with black to achieve a dramatic, colorful smokey eye. She said:
"Cream shadow underneath powder eyeshadow acts as a magnet for color, meaning you won't have to dip into your palette multiple times to build up pigment."
Layering duo-chromes can also be placed last. Of course, makeup users should remember to fade the color by the edges to appear as seamless as possible.
Besides a colorful smokey eye, the "classic smokey eye" is also an option when using black eyeshadow. The smokey eye look uses different shades through blending to create dimension in the eyes.
To achieve the look, apply a mid-tone eyeshadow on the eyelid, which will be used as a subtle base. Next, use a liner on the lash line and smoke it out with a brush before it sets. After creating both bases, use a dark-toned eyeshadow over the liner to blend upward and make a smudged effect on the edges.
Celebrity makeup artist Robert Sesnek also has a makeup look called "black definition," which utilizes a damp angled brush with black eyeshadow to define the eye shape. "This is a great tip [to use] either over pencil as a template or as-is to add more definition," he said.
Another rendition of the smokey eye is the "glittery smokey eye," which can be achieved by adding shimmer to the gorgeous look. Often, the glitters added are of different shades of silver. The look is best suited for evening events and extravagant occasions.
The smokey eye can also be used as a base in what Maybelline makeup artist Erin Parsons does to achieve the "smokey base" look. According to the professional, using eyeliner as a base on the lashline sets the look. Anything can be added on top.
White Eyeshadow Ideas to Try For Your Next Makeup Session
Although less common, white eyeshadow is a gorgeous look on women, best used as holiday makeup. Similarly, many techniques utilize white eyeshadow, including "feline eyes." The look is similar to the cat eye but with white makeup.
Another trending look is the "blocky white eyeshadow," which is easy to apply for beginners. To achieve the look, use white eyeshadow on the lids, extending it upwards and outwards to cover the entire eyelid.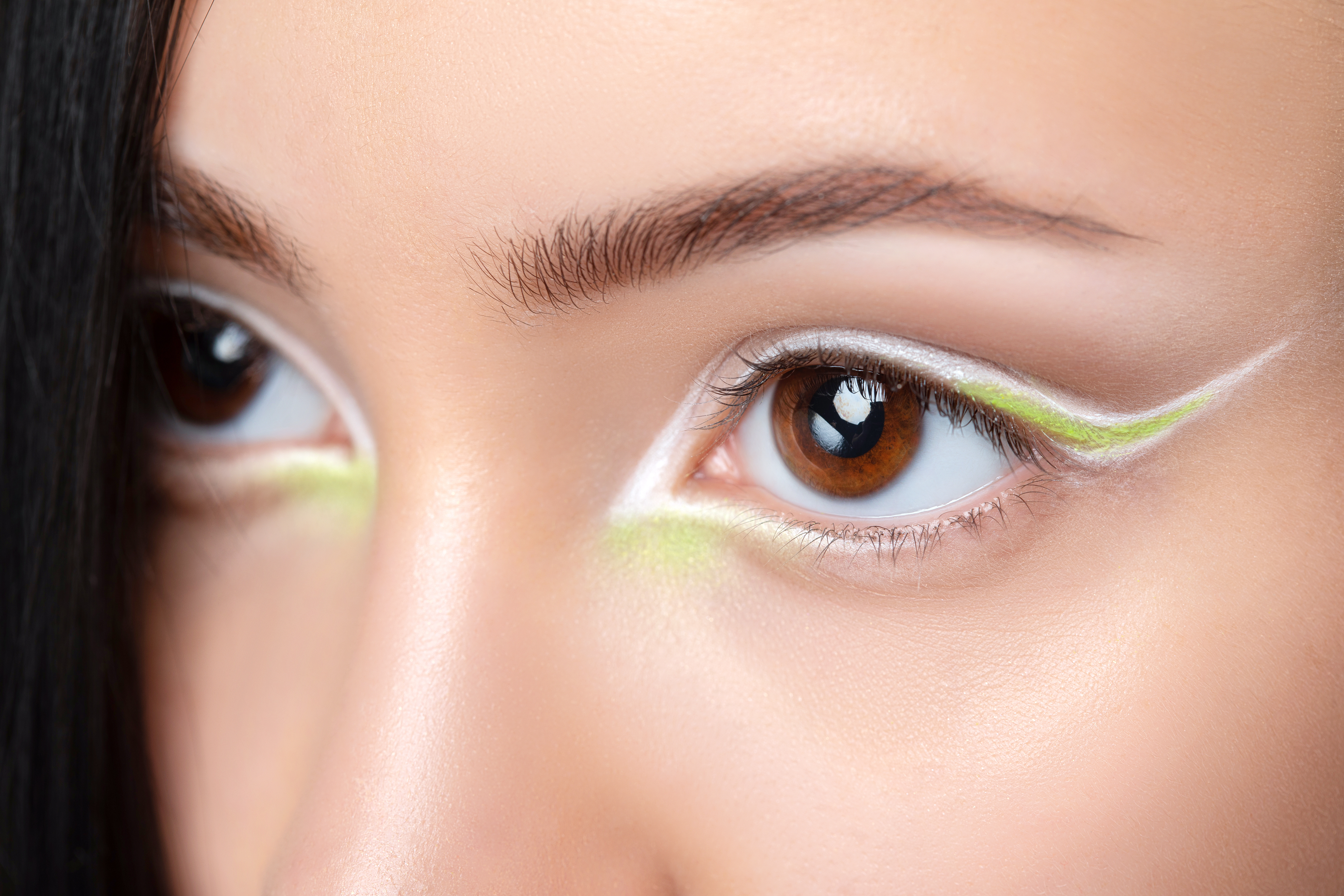 A model with green and white eye makeup. | Source: Getty Images
"Smokey eyes" can also be created with white eyeshadow. The exact instructions apply, but only with shades of white and ending with a deep gray color to blend.
White and silver shades are also used to get a "white ombre" makeup look. The technique uses a shimmering white shade on the inner corner of the eyelid and changes to a darker gray as it moves out.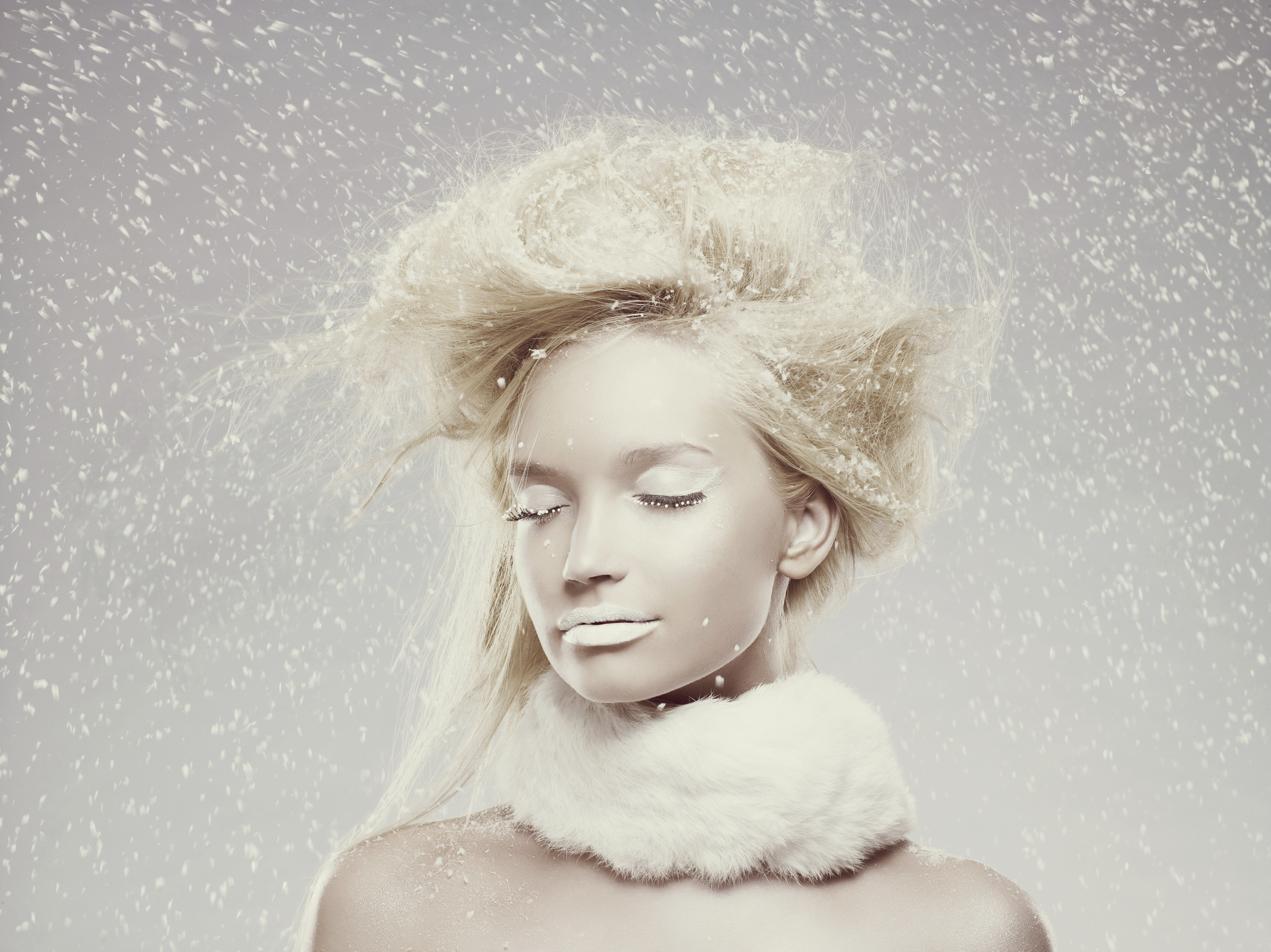 A model poses in all-white makeup. | Source: Getty Images
To create a simple yet contrasting look, white eyeshadow with white and black liner is necessary. While it may seem too much, the black-and-white layering can instantly emphasize the eyes.
Black Eyeshadow Makeup Looks from the Runway
Black eyeshadow is a runway favorite, a shade choice that is sure to draw the audience's attention to the models. Previously, dramatic and loud techniques found their way to the fashion runway, including a thick black winged eye makeup that extended to the temples in 2022 at the Kenzo menswear show in Paris.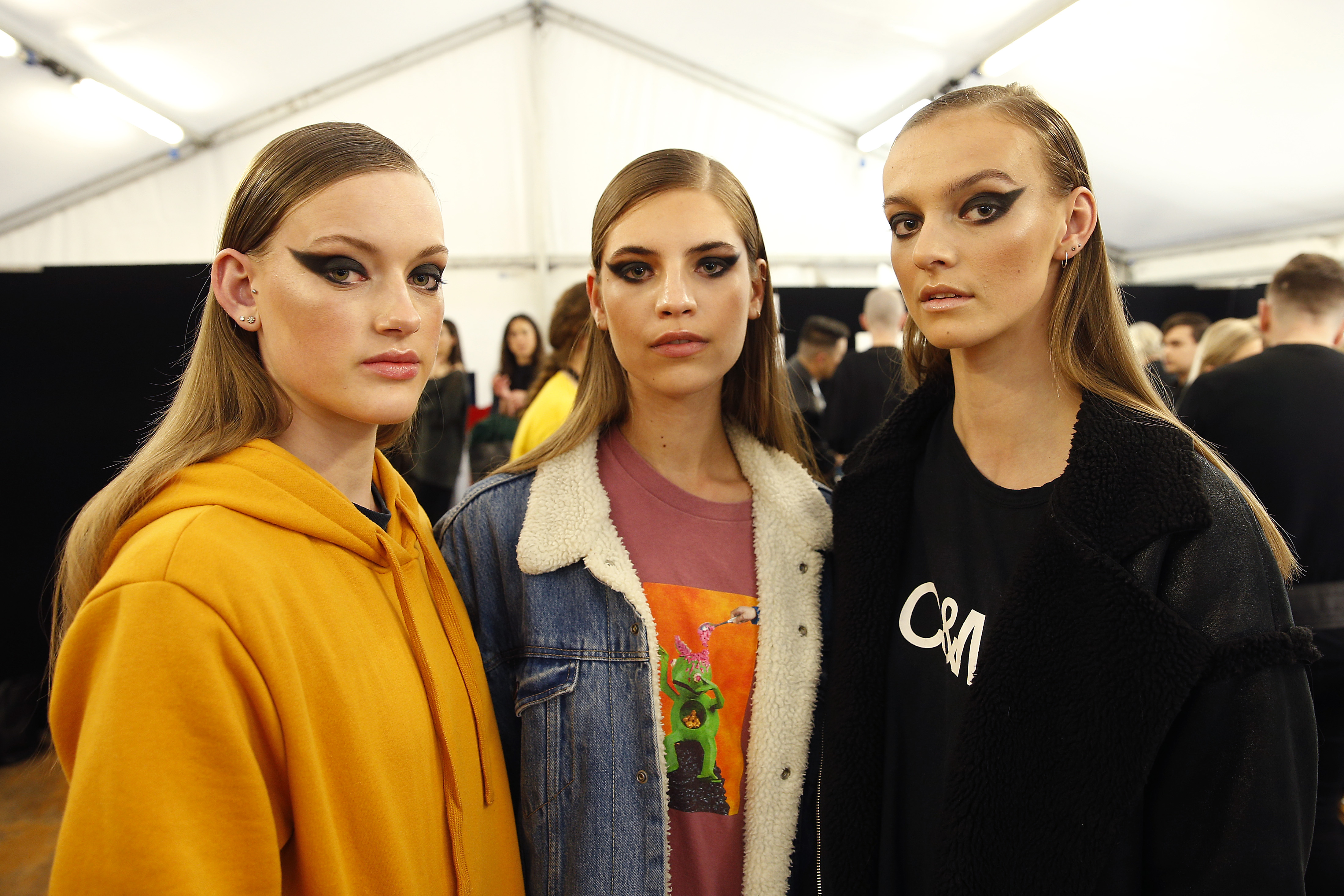 Models pose backstage in a 2019 New Zealand fashion show. | Source: Getty Images
During a Chanel couture show the same year, some models featured smudged black eyeliner on one eye, inspired by Robert Pattinson's makeup in the "Batman" trailer.