A woman with a platinum blonde jellyfish haircut with lime green ends | A woman with a brunette jellyfish haircut with red horizontal highlights | Source: Instagram/toriatsolara | Instagram/hair_by_renske_
Exploring the New Jellyfish Haircut Trend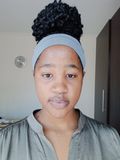 In mid-2022, there was a resurgence of what has been dubbed the jellyfish haircut, i.e., the "avant-garde cousin" of the mullet. Loved for its unusual, daring shape, it began trending following Nicole Kidman's Perfect Magazine shoot.
In an August 2022 Instagram update, Nicole Kidman shared a glimpse of a recent photoshoot with Perfect Magazine with her followers. It was a string of photos captured by the publishing company, depicting the actress clad in stunning edgy ensembles.
While the images garnered praise from thousands of fans, the part of Kidman's looks that sparked discourse was her hairstyle. Her hair was a deep ginger shade, styled in a blunt bob that framed her face with longer tresses going around the rest of her head.
Although many saw it as a jellyfish haircut, others debated it might not be. In fact, Kidman's hair stylist, Evanie Frausto, agreed with the latter, saying though it wasn't a jellyfish haircut, Kidman's haircut indeed resembled it.
So, What Is a Jellyfish Haircut?
As the term suggests, the jellyfish haircut is a hairstyle that mimics the shape of the aquatic creature. Similar to Kidman's cut, it is achieved with a 360-degree bob that doesn't necessarily have to be blunt, with longer hair underneath, usually closer to the nape of the neck.
Additionally, the strands vary in length to create a layered appearance. Celebrity hairstylist Frédéric Fekkai described it as a "contemporary, artistic, cleaner" version of the mullet. "It's almost punk, in a sense," he said.
What to Consider before Getting a Jellyfish Haircut
Many have praised the jellyfish haircut for its versatility, but there are some factors to consider before visiting a salon or opting for a DIY approach. Hair texture has been said to play a crucial role in how this hairstyle turns out.
For example, with straight, fine hair, the jellyfish haircut creates a "crisp, geometric, elegant" appearance, but with coarse, thick hair, the aesthetic is more dreamy and ethereal. Additionally, with wavy and curly hair, it can resemble a mullet or shag cut.
Regardless of texture, however, the jellyfish haircut will "adapt" to one's "unique hair qualities" when done right. Although it also suits any face shape, it is advisable to visit an experienced hairstylist who has done it before, with lots of visual inspiration (photos and videos, if possible).
Styling and Maintaining a Jellyfish Haircut
There are numerous ways to style a jellyfish haircut, hence the necessity of bringing photos or videos to an appointment. Visual inspiration often gives a person and their stylist a clearer vision of their desired look.
For example, they might want a jellyfish haircut with distinctive layers or a more blended appearance. Additionally, this style is low maintenance. Stylist Sarah Cunningham suggested "it'd look best rough-dried" before applying a texturizing spray to "make the layers pop."
And if one doesn't want to take the big plunge with a jellyfish haircut just yet, one can still enjoy it with extensions. Cunningham suggested that it can be achieved with a classic bob and hair attachments for a "semi-permanent eye-grabbing effect."