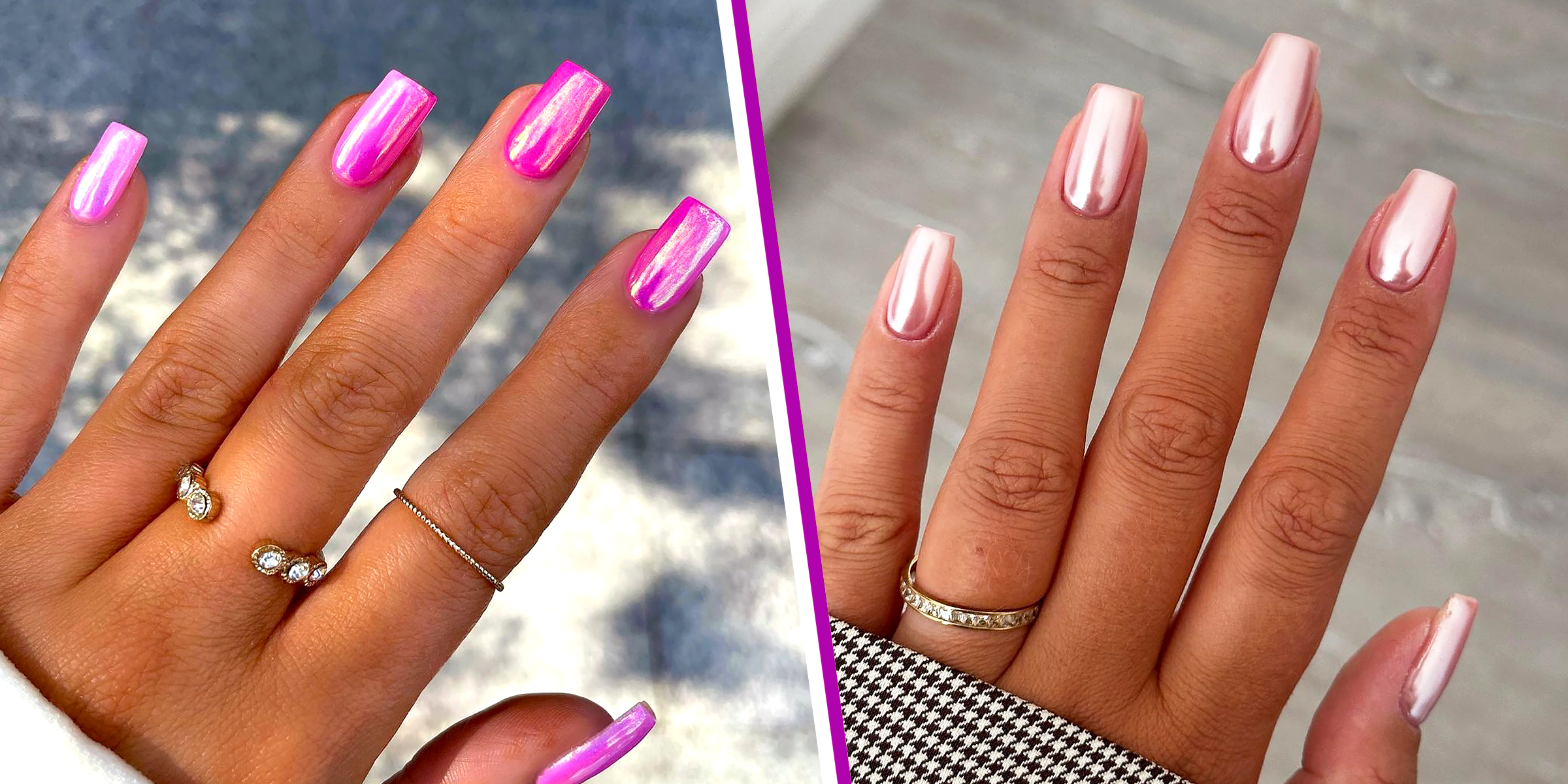 Pink Nails | Source: Instagram/by_hannahtaylor | Instagram/beautyspace_charlotte
Pink Chrome Nails in Line with the Barbiecore Trend

Pink chrome nails have been trendy since the release of the hit movie "Barbie." The style joins the Barbiecore trend, which includes all things cute and pink.
Since the hit movie "Barbie" premiered, many movie watchers and fans alike have been inspired to wear pink clothing and join similar fashion and beauty trends, among them is the Barbiecore trend.
In line with its feminine theme, "Barbie" featured several bright colors, most especially shades of pink, and had several plains and prints. The Barbiecore trend has since gone viral with the internet full of stylish clothing and styles.
What Is the Barbiecore Trend?
Nearly every fashion style inspired by "Barbie" is part of Barbiecore – a pink aesthetic with hints of nostalgic accessories. In particular, [the] clothing worn by the titular character, played by Margot Robbie, serves as the point of reference for the iconic trend.
However, Barbiecore began years before the film's release as the Mattel-designed dolls first hit retail stores in 1959. Dayna Ison Johnson, Etsy's trend professional, said:
"A much-welcomed mood-booster after the last few years, 'Barbiecore' is all about embracing vibrant hues — particularly the doll's signature hot pink — in everyday life."
"And with many nostalgic for simpler, sunnier, and more carefree times, it only makes sense that this '80s-inspired, unapologetically pink aesthetic is taking center stage as the 'it' style of the summer," she added.
Besides dresses and accessories, stylish nails have also been included in Barbiecore, including pink chrome nails that both exude elegance and style. Not to mention, it screams "Barbie."
Ideas for Pink Chrome Nails
"Barbie" pink chrome nails are what every person would imagine Barbie's nails would look like. The chrome finish is a chic way to add a high-shine finish to the already aesthetically pleasing look.
One pink chrome nail idea is the pink French manicure, which takes a twist on the classic French tip. While the usual French tip is white, the "Barbie" trend uses pink polish as a base. Designs such as stones and other artwork can then be added to the finish. Another take on the French is using a pink base and switching the white line for a silver or red manicure color.
Glossy pink chrome nails are also stunning, combining three popular trends: lip gloss nails, chrome nails, and glazed doughnut nails. It perfectly matches spring and summer clothing.
While not pink, chrome purple manicured nails are also part of the Barbiecore trend. The deep-purple chrome color gives a "Barbie" coupled with rocker-like vibes. Meanwhile, brides and guests of formal events would like the pearly pink or champagne chrome nails.
Those who don't like their nails painted on can also opt for stick-on gel manicure sets that are more detailed and precise.
Celebrities Who Joined the Trend