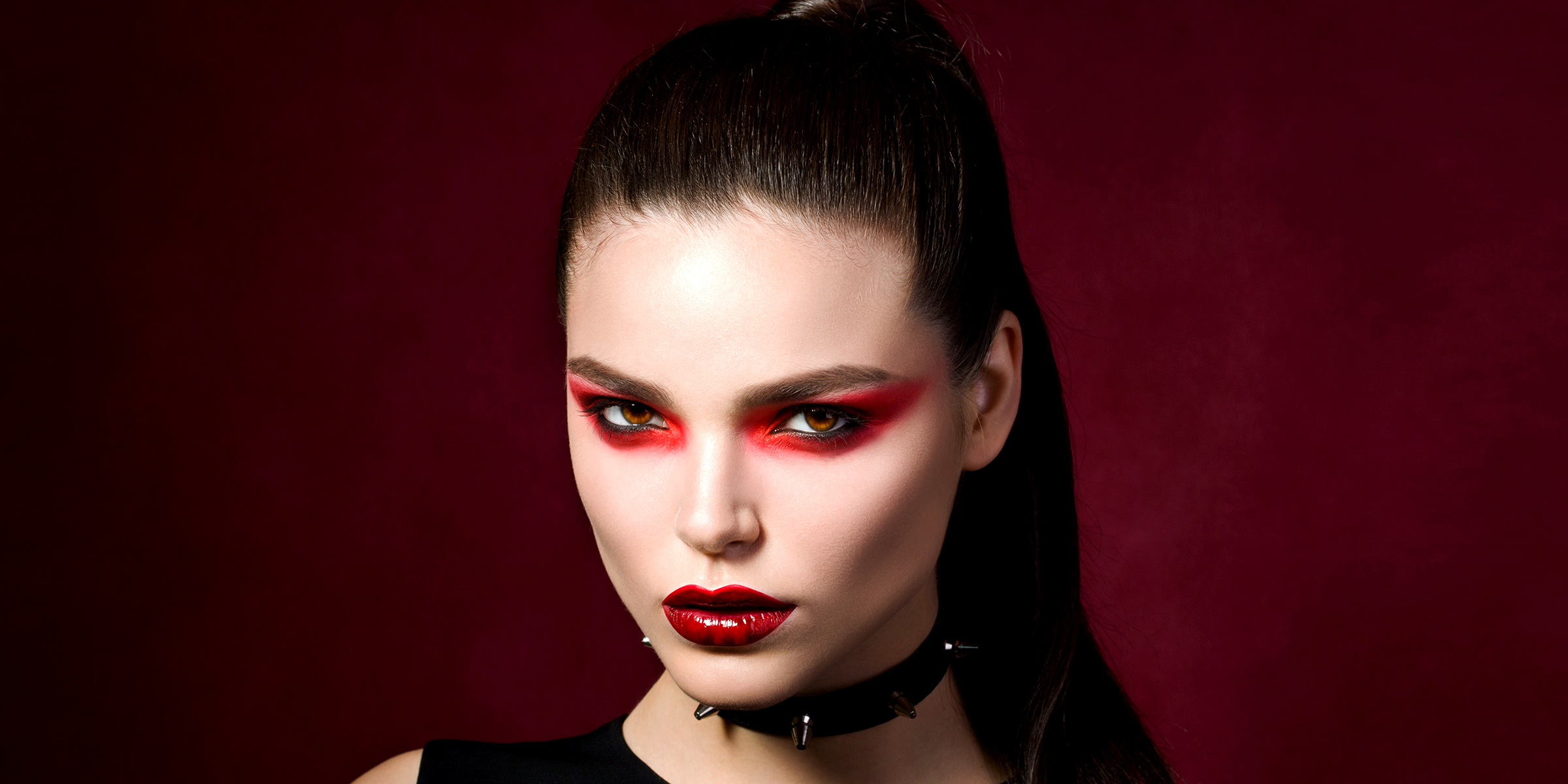 A Young Woman with a Straight-Eyebrow Make-up Look | Source: Getty Images
Straight Eyebrows for Goths: How to Create Them & What It Requires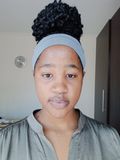 The straight eyebrow look is a decades-old beauty hack for achieving a lifted facial appearance. Though initially showcased by one of Hollywood's late longtime starlets, it has dominated the goth beauty industry and has been applied in several variations of goth make-up looks.
Eyebrows have been considered a framing element to a make-up look, regardless of what inspired it. This facial feature has undergone several styling evolutions over the decades, with trends dictating just how much eyebrow hair a woman should have.
Thinner eyebrows dominated in the earlier decades, but an appreciation for thicker and fuller eyebrows gradually emerged. However, nowadays, it appears there's room for any variation of eyebrows, modern or retro, chosen for a make-up aesthetic.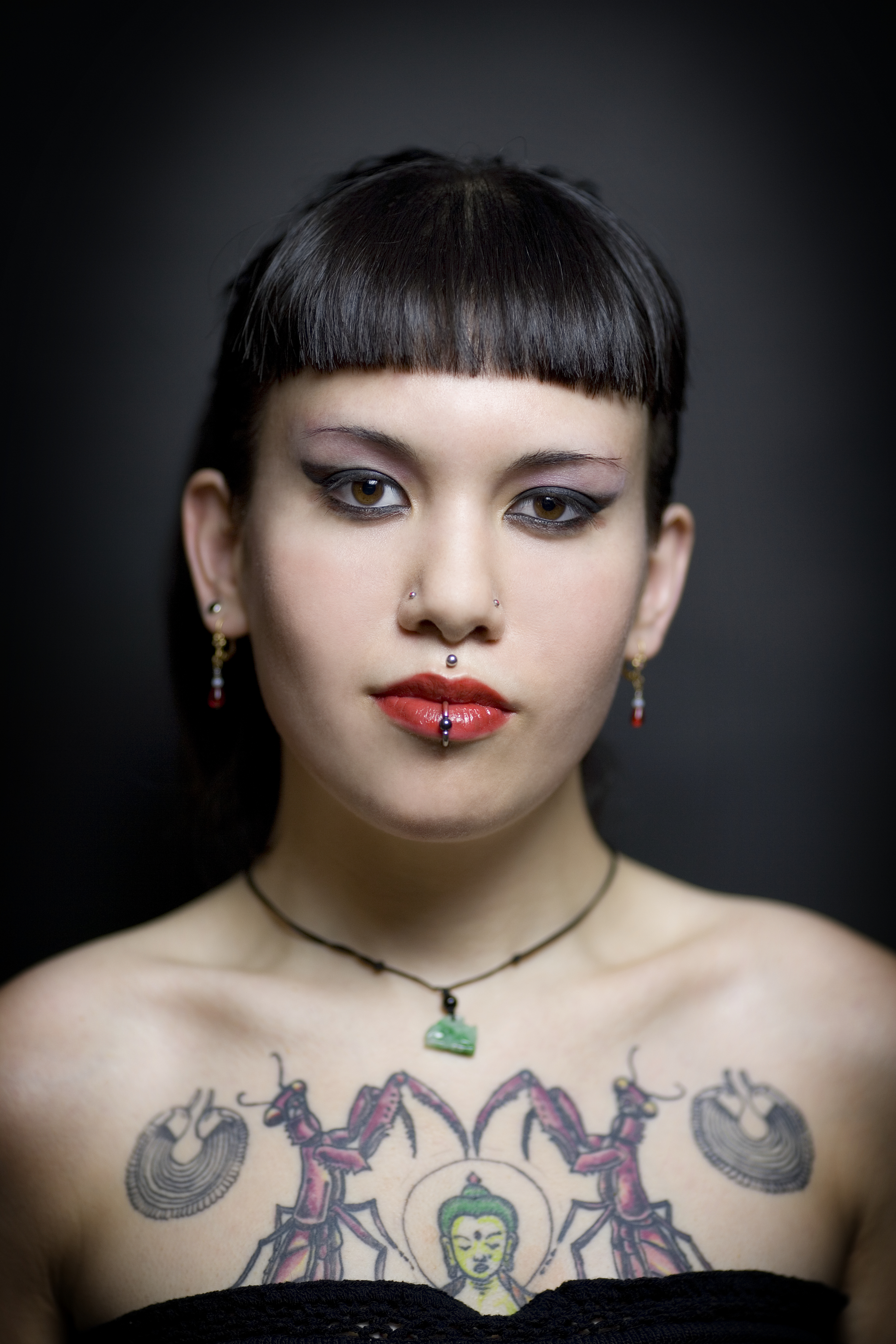 A close-up portrait of a young woman | Source: Getty Images
Straight eyebrows for a goth make-up look, in particular, have been a dominating social media trend; some have even gone to extra lengths to achieve it permanently or semi-permanently. Others have opted to fake the straight eyebrows, originated by Audrey Hepburn, to enjoy the effects of this brow style more short term.
Straight Eyebrows Have Their Advantages
As the term suggests, straight brows have little to no arch. They can be attained regardless of how one's brow naturally grows; however, beauty expert Jared Baily advised using the brow-mapping method to measure the specific shape of a natural eyebrow. It then becomes easier to carve out any desired brow style, but in a way that most flatters a person's unique features.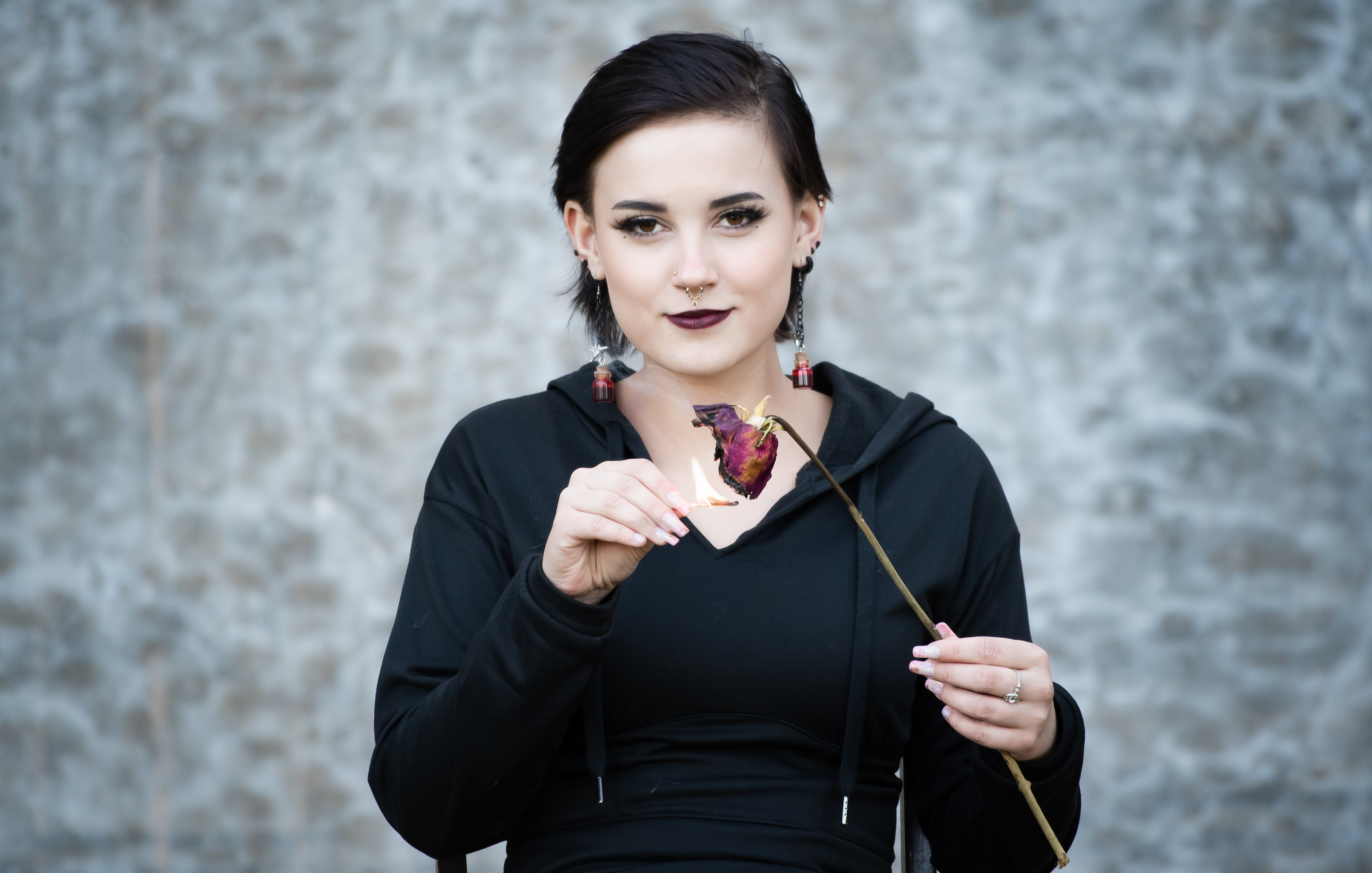 A portrait of a teenage girl holding a match to a rose | Source: Getty Images
In addition, Bailey said that straight eyebrows make the eyes appear brighter and bigger. He explained using the three facial planes: from the forehead to the brows, brows to the lips, and lips to the chin. "A straight brow will block out these proportions, and as a result, make the eye appear more open," he enlightened.
Moreover, while straight eyebrows were predominantly seen in goth make-up looks, they have spread to other niche beauty aesthetics. The trend began when a Bella Hadid-inspired filter went viral, leading many to try and realize the look in real life. Still, it is worth noting that it received mixed reviews for various reasons.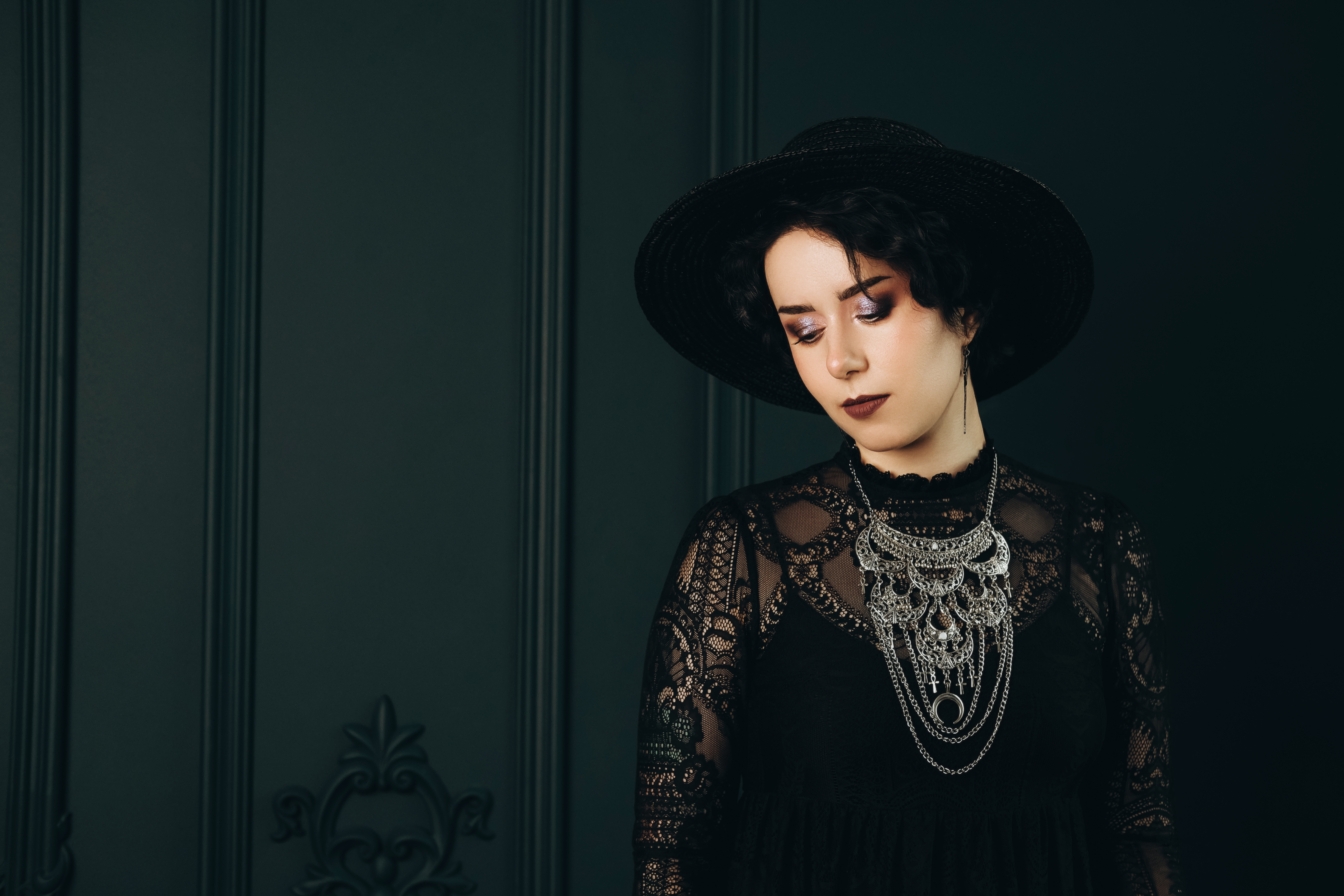 A portrait of a young woman in goth make-up posing in dark room | Source: Getty Images
How to Create Straight Eyebrows
Straight eyebrows can be created by shaving their natural tail end and shaping or starting from scratch by completely shaving them off. However, brow specialist Vanita Parti advised against shaving, as the results can be unsatisfactory and, worse, permanent (in which case, a dermaroller or microblading might help).
Her tip is to focus on the brow's arch, trying to make it appear lower by not tweezing the extra hairs that grow beneath it. One option for attaining straight eyebrows is using concealer to cover the tail end, then drawing tiny strokes underneath the arch for a straighter appearing shape.
For those bold enough to shave their eyebrows, goth make-up artist Joana Shino provided a tutorial, starting from scratch by repurposing less-pigmented black liquid lipstick. She uses it with a small angled brush to draw a base for her brows. She then uses a pen eyeliner to etch and blend hair strokes along the shape.
Complete the Look & Create a Gothic Make-up Look
While straight eyebrows dominate the beauty industry, among other growing trends this year, goth eyebrows don't only have to take that shape. Others, such as the half, the pointed, the '80s, or the mopey goth brow, can be explored. These can also be paired with a complete goth make-up look.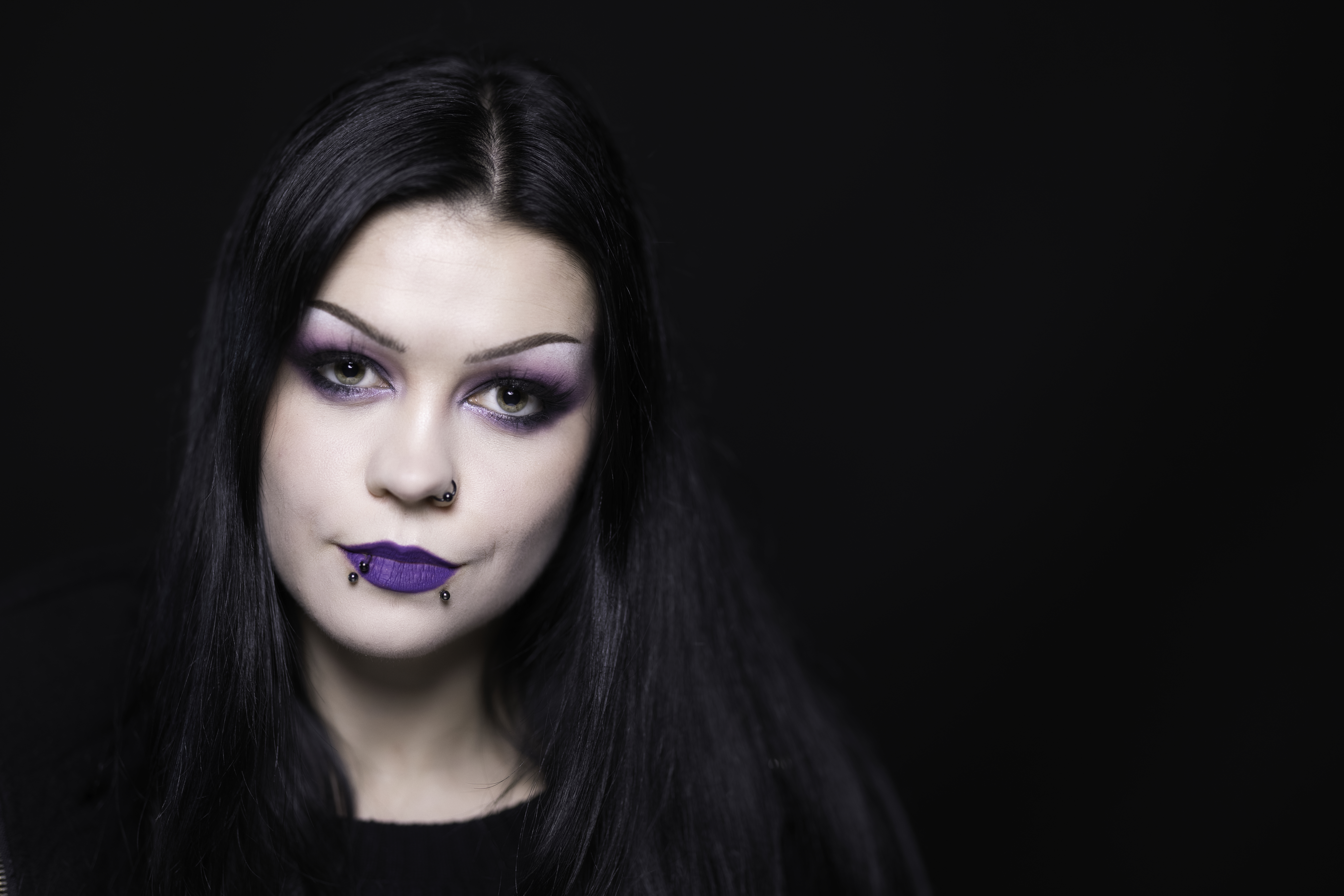 A goth lady of 30 photographed in a studio | Source: Getty Images
The first step to creating one is priming the face, then applying foundation. The next is creating a "goth glow," using a bronzer to contour, finishing with a neutral blush on the cheeks. Next, create a smokey eye (or a daytime smokey eye) and line the eyes.
Then apply a volumizing mascara, followed by defining the eyebrows, adding dark lipstick, and spritzing a setting spray to finish up. For a more glossy goth aesthetic, celebrities such as Doja Cat and Florence Pugh may serve as inspiration in their recent Grammys and Emmys looks.