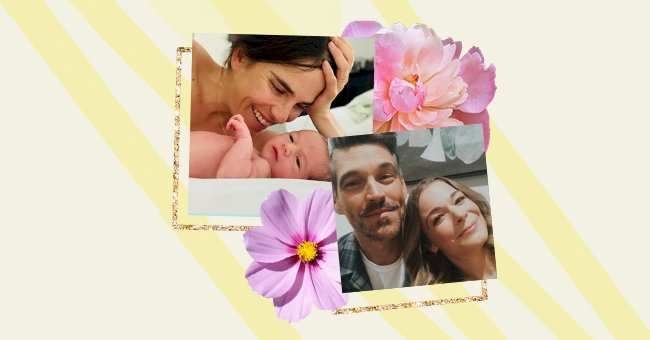 5 Celebs Who Shared Their Family Self Care Routine
Self-care with the family can make for beautiful memories and a joyous, relaxing time for all. A few celebrities have shared how they go about self-caring with the fam.
Self-care provides the perfect time to reconnect with and show yourself some good old tenderness, care, and love. Some wholesome self-care moments with the family are just as good to bond over.
Whether it's mother-daughter skincare time or precious time spent just hanging, these tender moments are invaluable. Here are five celebrities who've shared their family self-care routine:
Karla Souza
Karla Souza details how cutting her daughter, Gianna's, hair has become a "beautiful ritual" at home. She adds that being Mexican and living in a culture that she says isn't hers also means she has to actively expose Gianna to the Spanish culture through songs and books.
As such, Souza uses the time in which she cuts Gianna's hair to put on a Spanish kid's program to expose her to the language and distract from the pair of scissors going through her hair.
Melissa Stark
You may be familiar with the saying, "you can't pour from an empty cup." Often, people forget to fill their cup for their own sake, their families, and those around them. Melissa Stark makes sure to take some time to herself after putting the kids to bed.
"Having four kids, the only quiet time in my house is at night after they go to bed. My goal every day is to outlast them by an hour or two—that way, I can read a book or get organized on my computer. During the day, to get my mind off of work or any kind of stress, I love to do vinyasa yoga classes. I balance that with competitive tennis. It's a great combination!"

Stark told "Self."
Gabrielle Union
Gabrielle Union shared how she takes care of Kaavia's natural hair. She said that because her daughter enjoys a daily dip in the swimming pool, she has to apply a leave-in and oil on her hair every day.
Union goes on to detail the fun that transpires during these regular haircare sessions. Reminiscing back to when she was younger and taking care of relaxed hair brought on anxiety and fear, she describes her experience now with Kaavia as "more relaxing," despite her daughter occasionally "trying to make a break for it."
Serena Williams
Twenty-three times Grand Slam champion Serena Williams shares how she uses meditation apps to clear her mind and be better for her family.
"I just downloaded this meditation app. I was trying it because I felt like I needed to clear my mind. The guy talks to you for a second, then you just sit, clear your mind and think. I start it [and meditate for], like three to five minutes, depending. I try to meditate more because it helps me be better for my daughter and my family, and I think that's really important."

Serena Williams said.
LeAnn Rimes
LeAnn Rimes says that she and her husband, Eddie are into meditation apps. She admits that she got him into it, and he willingly joined.
She says that her favorite is Insight Timer, followed by an app created by Dan Harris called 10% Happier, which she describes as "really great."