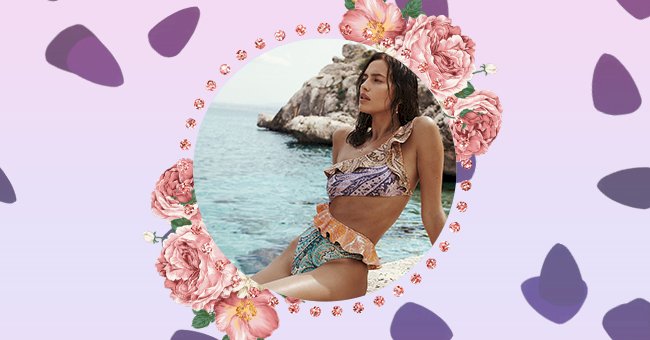 The Top Swimwear Trends For 2021
We've been fantasizing about warmer days and all the things we can do in the longer, sunnier afternoons. These are the swimsuits we'll be doing them in.
Chilling poolside in some cute swimwear has been sitting somewhere on the list of anticipated to-do, along with cute picnic dates and finally wearing some of those perfect spring colors.
Now that spring is in, and the weather is warming up, the urge to spend the days in a swimsuit is intensifying. While we're still taking heeding recommendations from the CDC to mask up, socially distance, and frequently sanitize, these are some of the swimwear trends to expect this year.
Upside Down Bikini
This is technically a trend we saw popularized by the Kardashian-Jenner family some time. However, considering the lack of certainty around whether or not we'll safely hit the beaches and pool spots, we may see this trend maintain popularity.
It's an interesting way to take what you may already have in your wardrobe and change the style without having to drop some dollars on a new bathing suit.
Frills
Keeping things light and frilly is peak spring/summer style. This is being reflected through the swimsuit trends we can expect to take over.
Frills and ruffles bring a femine bit of detailing to your swimsuit. One may opt for frills on bikini bottoms, bikini tops or on your one-pice bathing suit.
Strung Along
A swimsuit that features stringy bits to be tied is for in. You can get creative with it and find ways to tie your swimsuit in unique ways.
You might choose to criss-cross the strings or twirl them around. Find what works and go forth in your trend, tied-up swimsuit.
Black
Black is the timeless colors that confidently finds its way into every season, year in and year out. While one may gravitate towards the brighter, bolder colors in spring, don't count black swimsuits out.
Rihanna recently wore a glamorous black bikini featuring silver, shiny detailing that may look slightly nightclub-inspired, and we know the rules if Rihanna says it's cool, it's cool.
Animal Print
Dare to live on the wild side with an animal print swimsuit this coming summer. The trend is in big at the moment but came in a few seasons ago.
Prepare to see all the cheetah, leopard, zebra, cow, and tiger prints around the pool areas and beachside during this year.